article_id 5
rsa new contemporaries 2014
13 Feb 2014:
city of dreams

Here is a collection of images taken over the last six months as I worked in my studio (Attic Studio, West End ,Glasgow) towards the RSA-NC 2014 exhibition. I see the finished pieces as colourful visual puzzles - reflections of the jumble of complex images in my head that compete for my attention. The themes are universal with threads of personal experiences.




In parallel with the paintings I worked on part of the imagery in a three colour lithograh, 'city of dreams' which was not exhibited but exists as a framed edition of five.



The main narrative of the city of dreams lies within the 'city of dreams – the gatekeepers' (248.5(w) x 148(h) x 4 cm(d)) and so I have used this as an illustration of how I work.

I prepare the linen stretcher in a fairly traditional way with layers of size and primer before applying the oil paint but then continue to develop the piece with more physical layers of paper, drawings and painted elements including glazes. The image below shows the completed "under painting" in oils.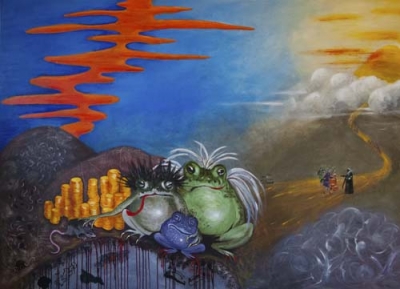 studio 1: the under painting of the gatekeepers before application of prints
This under painting forms the seventh layer of the work and is now buried beneath printed paper, glazes, drawings and paint.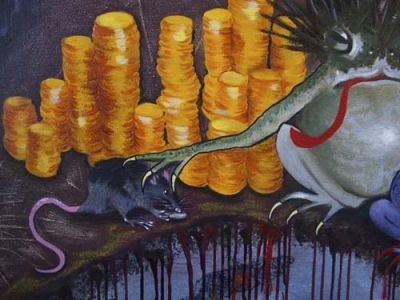 Studio 2: detail of the underpainting gatekeepers oil on linen - gold coins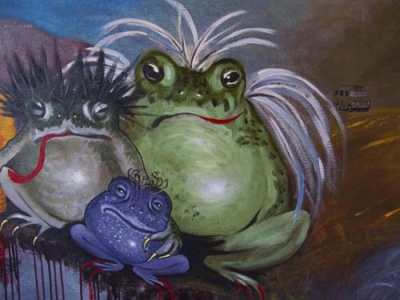 Studio 3: detail of the underpainting gatekeepers oil on linen - toads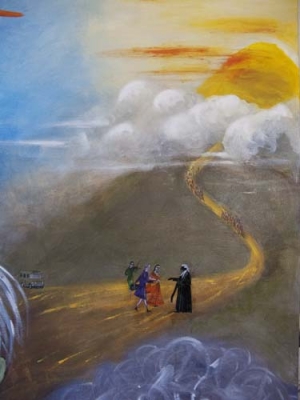 Studio 4: detail of the underpainting gatekeepers oil on linen - on the road
The images 1 – 4 are my only record of the oil painting in layer seven. The completed work is made up of between eleven and fifteen layers.

Once the under painting was completed in oil on linen (studio: 1-4) it was time to hand print wood grain onto 25 sheets of Gampi paper, a delicate but strong Japanese paper that is almost transparent when collaged to a surface.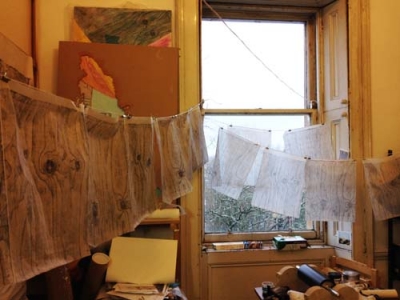 studio 5: drying hand made wood grain prints on gampi japanese paper
Glazes of shellac are used to apply this to the painting once it is completely dry. The paper wrinkles on the uneven linen and paint and also traps sinuous threads of air resulting in an interesting texture, which is also reflective from the slight sheen of the shellac glaze. I then add elements of the image using oil paint and permanent inks either directly on the surface or on further layers of gampi.

I see these works as three-dimensional objects and so the images extend around the depth of the stretcher both in the under painting and the applied imagery and prints.

The completed work is shown below (studio: 6) and then safely propped up in one of the galleries at the RSA awaiting install.

studio 6: city of dreams-the gatekeepers

studio 7: completed works safely delivered to the RSA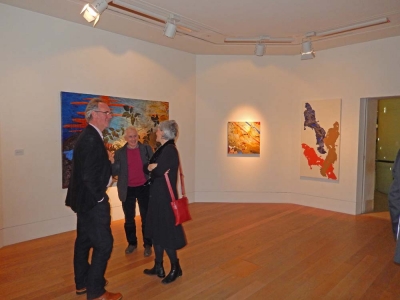 Opening night: RSA-NC 2014 exhibition
Last updated: 12.52 PM on 10 Mar 2016
Click here for my full blog list